One of the things boys all look forward to in Cub Scouts is CAMPING and it's almost time! Save the date for October 7-9 to camp with Pack 1910! A ScoutBook invite was sent out to all current members.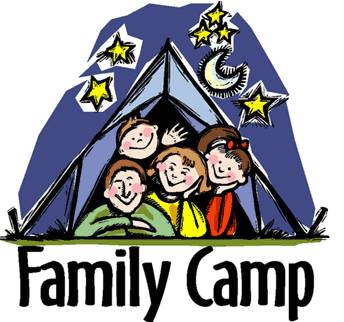 Unless you have an open-ended bank account, don't run out and buy every piece of gear you think you need at Cabela's (but if you want to, please let me know and I'll give you my list, too!) The best thing to do when starting to acquire gear is to start small and simple so that you can discover what your family needs... grow from there. There are plenty of seasoned camping veterans in our pack that have gear to spare so don't hesitate to put the word out if you need to borrow something.
Cub Scout family camping is also referred to as "car camping." With a large enough vehicle, you're fortunate enough to be able to take just about everything AND the kitchen sink with you. But for the amount of time you'll be there, it's really not necessary. Though, a few creature comforts are definitely worth it!
For our campout at Worth Ranch, however, you won't necessarily need a ton of supplies.
To begin, you need something to sleep IN, something to sleep ON, something to wear, personal toiletries and light. (Oh... and toilet paper! Don't forget the toilet paper!)
Below is a somewhat detailed packing list with a few notes to give anyone who needs that itemized list a few extra ideas.
CAMP
Tent (should come with stakes and guylines)

Plastic mallet (I keep this in my tent bag)

Tent footprint (this is a tarp to place beneath your tent to protect it from rocks, cactus, etc.)

Sleeping pad (unless you're okay with the ground) or air mattress (check the batteries on your pump -- we usually do not have electricity at camps. I've seen people use those cheap blow-up pool floats for their kids... they're quick, easy and if you pop a hole in them, no love lost as they're easily replaceable)

Cot (you won't want to use this in cold weather as the air circulating beneath you will make you colder)

Sleeping bags (with liners if it's chilly)

Extra blankets to keep in the car (just in case)

Pillow (though you can use your sweatshirt as a pillow as well to minimize your packing list)

One folding chair per person

Pop up shade

Folding table (though your cooler may work in a pinch)

Lantern / fuel

small dustpan and brush (I love having this in my tote to help clean up all the leaves, dirt and debris tracked into the tent)
CAMPING KIT
I like to keep a small tackle box prepped with various items that someone always seems to need including:
Multi-tool or knife

Glow sticks

Batteries (for flashlight or headlamp)

Bandana

Duct tape (it fixes everything)

safety pins

Caribeeners

scissors

q-tips
GEAR
Daypacks (to carry your gear for the day -- lightweight backpacks)

Headlamp (I find these are much better to use than flashlights because they keep your hands free)

canteen

Matches/lighter

Compass

Whistle

Sunglasses

Hammock

Rope
CLOTHING
The best motto here is BE PREPARED. I always keep an extra change of clothing in a bag in the car WITH socks and shoes that we hope to just put away at home when we return. However, if there is a surprise downpour, a slip and fall in the mud or a spill, we are prepared. Happy kids = happy parents = great campout! Your weather forecast IS YOUR FRIEND. Be sure to check it the day before you pack and then check the morning before you leave.
long sleeved shirts (moisture wicking is great, flannel is great - these are great to protect from the sun, bugs and to take the morning chill off)

sun-shielding hat

Bandana (these are handy for just about everything including makeshift first-aid)

Close-toed shoes suited for the terrain (NO open toed shoes, flip flops or sandals)

Socks

Sleepwear

Rainwear (a poncho in the daypack can be a lifesaver!)

Weather appropriate change of clothes (could be cold weather / could be shorts)
TOILETRIES
toilet paper

sunscreen

chapstick

insect repellent

hand sanitizer

First aid kit

Toothbrush/toiletry kit

Brush/comb

Soap/washcloth (I like to take a small bar of soap OR cut up a large bar of soap into quarters and put it in a zip loc bag with the soap. Use that to wash your face, wring it out and put it back in the ziploc.

Deodorant (please! ha!)
CAMP KITCHEN SUPPLIES
Camp stove with windscreen

fuel

matches/lighter

S'mores fixins

charcoal or firewood (you MUST pack your own firewood at most scout camps)

Cooking gear (pans, pots, hotpads, coffee pot)

Bottle opener

Can opener

Roasting sticks for marshmallows

aluminum foil

trash bags

Cooler

Dutch oven

Ice (if you freeze jugs of water, you can use them both as a coolant and also as a way to keep your food cold). You can keep food packed on ice dry by placing cookie cooling racks on top of it and then setting items that can't get wet on top of those.

mess kit (plate, bowl, fork/knife/spoon)

Mug/Cups

Measuring spoons and cups

Serving utensils, whisk, spatula

Cutting board

Three tubs for proper sanitation along with bleach, biodegradable soap, scrub brush

Large water jug - filled with water and ice to last you a couple of days (they will have water stations but nothing ever tastes as good as water from home)

Paper towels

Ziploc bags

Tongs
OPTIONAL CAMPING SUPPLIES
Fishing gear (and license if over age of 17)

solar phone charger

binoculars

maps/guidebooks/local bird or wildlife field guide

books

decks of cards

frisbee

walkie talkies

umbrella

balls (soccer, football -- nerf is best, baseball/glove)

Hacky sack

Kite

geocaching kit with receiver

portable fan with batteries (yes, yes I have used this and NO, I'm not ashamed)
There are some fun websites out there with camping hacks that are super cool. Check those out HERE, HERE and HERE
The Fall Registration Form can be found HERE. This is required for anyone attending.
Registration fees are $15 per youth, $20 per adult. Payments can be made via cash, check payable to PACK 1910 or
PayPal
.
Deadline for turning in forms is FRIDAY, SEPTEMBER 30
.
There is a place on the form where you indicate if you are camping Friday night, Saturday night or if you're just attending for the Pack activities on Saturday. Please mark this. Once we have an idea of attendees, we will make and publish the menu. Friday night dinner will be on your own.
Again, please note that camping out Friday night is completely optional but many families enjoy the extra night in the fall air. Many, however, do come in Saturday morning after breakfast. Whatever works for your family! Just get them there!! Because, let's face it -- camping is a HUGE reason why boys WANT to be in Scouts!
When the BSA realigned the program for Cub Scouts, they made being outdoors an integral part of advancement. Thus, camping is a required component for earning your Wolf, Bear and Arrow of Light. Want to know what is required for those ranks? Click the Camping for Cub Scouts image to see.
All Pack 1910 camp outs are family friendly events so the whole family is welcome! Mark your calendars NOW to attend!
Completed
BSA Health Forms Part A & B
are
required
for
all
parties attending. If you haven't turned yours in yet, please turn those in with your registration.