Pack 1910 is pleased to announce the Camp Card Sales program is underway!
By selling Camp Cards, Scouts can earn their
own
way to Day Camp! The cards cost $5 each and the boys earn a 50% commission on every sale. This is
not
a fundraiser for the unit, it's used to pay for Day Camp (or can be used to pay for another camp or Pack function if they're not able to attend Day Camp.)
Oh, and did I mention they best part? This fundraiser is completely
RISK FREE
! That's right. Any cards you don't sell, you simply return them and you're done. Risk Free.
What specific savings can the boys sell from these cards?
The top and probably the way to obtain the easiest sell is to show an automatic return of your investment by simply spending money at Kroger!
$5.00 off with a $50 purchase at Kroger

Up to 50% off Texas Rangers games… see them over and over at almost ½ price!

50% off Hawaiian Falls water park, and a new year round Adventure Park.

LEGOLAND Discovery Center and SEA LIFE Aquarium at Grapevine Mills.

$1.00 off Wendy's Combo Meal ---All Year LONG!

Papa John's 40% off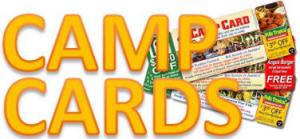 If you can get your son to sell 30 Camp Cards, that's a $150 sale and a $75 commission, or, stated differently, your Scout has paid for almost 80% of Day Camp!
While this is an optional fundraiser, we want to encourage participation in order to lessen the direct financial burden on our Pack families.
Selling teaches perseverance and being thrifty. Besides, every Scout deserves the opportunity to pay his own way.
Card check out was at the March 8 Pack meeting. If you were unable to make the meeting, please see April to check out your cards OR sign up for one of the slots for store-front sales at Kroger.
I encourage to you to do your best! It's a VERY easy sell!
The value of selling Camp Cards:
Mustang District Day Camp ($95) - 38 cards

Cub Scout/Webelos Resident Camp ($135) - 54 cards

NASA (Webelos Only in August) ($55) - 22 cards
Want one more incentive? Three top selling Scouts from each district will earn a chance
to be awarded a new game console at June round tables!
All unsold cards and funds are due on or before Tuesday, May 3.