From the time your Scout earns his first rank patch, which will always be the Bobcat for ANY scout rank, he will also be presented with several items.
The first is, obviously, his rank patch. This is cloth patch that should be sewn onto his uniform. You may find the proper location to place all insignia here.
He will also receive a card indicating his having received this rank patch.
These cards should be kept in a safe place. This is your "proof of ownership" for each rank, belt loop, pin and activity badge that your scout receives. A great way to store these from now until the time your Cub Scout crosses over to a Boy Scout Troop and earns his Eagle is to store all of these inside plastic sleeves within a 1" binder. The best sleeves are the ones intended to hold baseball cards. I found ours at Hobby Lobby. To the right is a great example I found on the internet. This is obviously a Boy Scout notebook (you can tell by the blue Merit Badge cards), but it serves the same purpose.
Lastly, your scout will also receive a small metal pin which is a miniature version of his rank patch. In this case, the Bobcat rank patch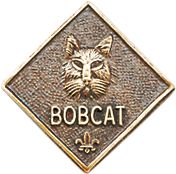 These pins are called Parent's Pins. These are also referred to as Mother's Pins. These pins are given to your Cub Scout to present and subsequently pin to the lapel of his parent's shirt (usually Mom). Why? Because it gives them a chance to share recognition with their parent. We realize that it takes a village... and we want to give your Scout an opportunity to provide his parent with a token of his appreciation for all YOU have done to help him attain his rank. In short, it's a big deal and you deserve to be rewarded and celebrated, too!
These Parent's Pins may be worn on your lapel, but they are generally worn on a mother's ribbon. These can be bought at the Scout shop or you could make your own. The ones available at the Scout shop are shown to the right.
There are other options as well. The one shown below is for both Cub Scouts AND Boy Scouts. This allows your son to just pin the ribbon. There is even a great way to make your own here:
See how he pins the ribbon? Cute isn't it? They're a great idea. I will say that I have seen many a pin clap get lost down the front of a mom's shirt by little fingers that aren't used to "pinning" pins onto clothing. The ribbons are a great way to prevent this from happening and you only need wear them at the Pack meetings where he would be receiving his rank advancement.