... and we're going to deliver it!
We had our den leaders poll the boys to find out what THEY wanted from THEIR Cub Scout experience! And you know what? We are going to make it happen!
Some of the top requests repeatedly heard from boys at different age groups/ different dens were:
Pizza party

horseback riding

fishing

climbing walls
Guess what? They're

ALL

part of the bigger plan we have in store for this year or the upcoming summers.
Pizza party? Check! The end of summer is a back to school pizza party/rain gutter regatta!
They want horseback riding? That is on the rotation of summer events for next year.
They want to go fishing! We are working right now on incorporating one of the Trout-O-Rees held at Camp Tahuaya into our annual calendar! They want climbing walls! Well, guess what? Those are going to be after the kingsnake show in August! How's THAT for meeting the call!
We're not stopping there, however! Our new Scout year is going to be

packed

full of fun!
Not only are we starting a

PACK 1910 HIKING CLUB

with scheduled hikes EVERY SINGLE MONTH! But, for the boys that attend -- they're going to get really cool things like patches and hiking sticks and medallions for reaching certain milestones!
Oh wait...there's more! We typically have operated on a NASA/USS Lexington rotation for "big trips" but we're going to mix that up as well so that there is no repetition for those who will be in the program from Tigers. We are going to start a NASA/Fossil Rim/NASA/USS Lexington rotation! Since this year is the NASA rotation, we will make plans for Fossil Rim next year! Oh yeah! That's right...an AWESOME program is in store for Fossil Rim!
Your den meetings will continue to be fun and productive... but our Pack meetings? Yeah, we're kicking them up a notch (or ten)! Our Pack meetings are going to have a THEME and ... well, they're going to ROCK! There's simply no other way to put it! A couple of things we DO want to make sure EVERYONE is aware of is that we will be checking attendance at these events for two purposes 1) if you miss, we want to know because a lot of the activities that we are working into our Pack meetings may cover rank and/or electives and most importantly 2) we want to send you a card and tell you that we missed you and hope to see you soon! You see, t
hese are going to be awesome Pack meetings that you just will NOT want to miss!!! Here's a little idea of what is in store: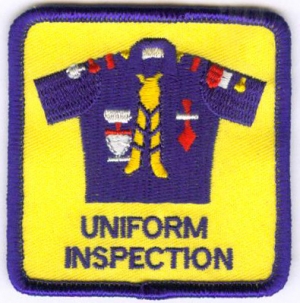 September -
Our first official Pack meeting of the new scouting year. Welcome back. Walk right into a uniform inspection.
Each den will have all of their inspection totals averaged. Highest average picks the first skit sack and so on and so forth. There will be a title on the outside of the bag but no other contents of the bag will be revealed. You have to choose based on name alone. (Yeah, you know how your mother told you not to judge a book by its cover.... you're gonna be doing it!). After that we will have awards -- (well, if you can CATCH them!) Then, they will be given a kit and will have one month to work their genius on it to bring back to the October Pack Meeting to show it off! This is just going to be the first leg on our journey upwards to bigger and better!
October -
We are going to have a Halloween Party! Not just ANY Halloween party but a COSTUME party! EVERYONE should come in costume! We are going to have games and relays and races and a costume parade. Scary good time!
November -
We are fortunate in that our Pack meeting falls on Veteran's Day. Not only are we going to have a campfire at Bear Creek Park like last time. But we are also going to have a very memorable flag retirement ceremony where our Webelos will be able to be a large portion of that. We have also reached out to the VFW to be present as well. It should be VERY special!
December -
We are going to have a Christmas pizza party with games and treats...
January -
This Pack meeting is going to set the bar for how the rest of the year must resonate with the boys., You see.... we are hosting a CUBANOPOPLIS!!!!! It's a neat word but really, what the heck is that thing we can't pronounce? It's a car race! In December we are going to give each scout a box to take home with him. He will have a month to turn that box into a car! It can be ANYTHING It can be a Lightning McQueen or it could be Herbie (I know someone has to know Herbie the love bug still and prove I'm not THAT old!) I'm farily certain we will have SpongeBob Squarepansts here. So... more information will be provided later but just know it's going to be a blast!
February -
This Pack Meeting is going to feature the "Minute To Win It" challenges. They'll have to try them one by one. And we can't forget that Blue & Gold will be later this month.
March -

The March Pack Meeting Theme is CSI - Cub Scout Investigations. We will need our super sleuths to get through a laser grid and solve crime to make sure we know what to do to find the missing awards!!!
April -
And we are saving the best for last. You see, this month's Pack meeting is likely the end-all-be-all of Pack meetings. Our theme? LEGOS!!
May -
We will have our bridging picnic at the H-center again. Maybe we will have a den competition Dutch Oven Cookoff for best dessert!
So as you can see... we are going to have TONS OF FUN!!!!
Oh and I completely forgot to mention... the REALLY COOL PATCHES we are going to start instituting into our program! Attend a Pack event -- you get a patch. Not just ANY patch, however, it's a segment patch. Your initial patch will be about a 3" circle and then as you attend events, you'll receive
segments that look like this (shown right)
and then by combining those around the provided base patch, your cub scout career is there for everyone to see! It just grows over your cub scout's career into this (below).
So, as you can tell... we have a LOT in store for you this year! I hope you stay along for the ride!